News
3.9.2019
Due to operating reasons our branch in Karlovy Vary, Stará louka 26, will have shorter opening hours from 09:30 till 17:30 untill futher notice, Thank you for your understanding.
29.7.2019
We are closing three branches in Prague 1 at the end of July. The closed branches are on the addresses Václavské náměstí 29, Železná 1 and Rytířská 26
8.4.2019
From the 8th of April we are opening a new branch in Plzeň on Americká 47, as well as a new branch in Trutnov on the address Obchodní 135
4.3.2019
We are moving our branch in Hradec Králové from the address 28. října to a new place on S. K. Neumanna 725/10
Older News
WESTERN UNION - when you need to wire your money fast, worldwide and without the use of bank accounts. Making a transaction takes just a while and money is available in matter of minutes.

Western Union Customer Service Center:
28. října 765/10, PRAHA 1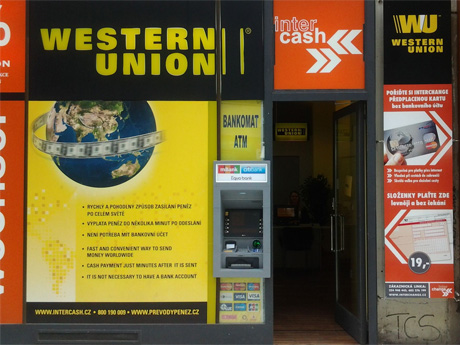 TOLL FREE LINE:
800 190 009
Toll free line working hours:
Mon – Fri 8,00 – 20,00
Sat - Sun 8,30 – 20,00

Western Union
Customer Service Center
28. října 765/10
110 00 Praha 1
Location working hours:
Mon – Fri 9,00 – 20,00
Sat - Sun 10,00 – 18,00