News
20.12.2019
Operation time of the customer line will be limited during Christmas and New year
12.11.2019
Our branch in Pardubice on T. G. Masaryka 1950, has been relocated to a new address, K Polabinám 1984.
3.9.2019
Due to operating reasons our branch in Karlovy Vary, Stará louka 26, will be closed untill futher notice, Thank you for your understanding.
29.7.2019
We are closing three branches in Prague 1 at the end of July. The closed branches are on the addresses Václavské náměstí 29, Železná 1 and Rytířská 26
Older News
WESTERN UNION - when you need to wire your money fast, worldwide and without the use of bank accounts. Making a transaction takes just a while and money is available in matter of minutes.

Western Union Customer Service Center:
28. října 765/10, PRAHA 1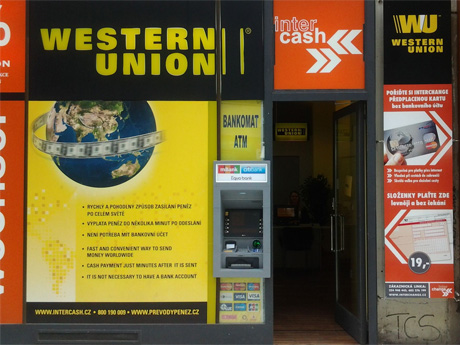 TOLL FREE LINE:
800 190 009
Toll free line working hours:
Mon – Fri 8,00 – 20,00
Sat - Sun 8,30 – 20,00

Western Union
Customer Service Center
28. října 765/10
110 00 Praha 1
Location working hours:
Mon – Fri 9,00 – 20,00
Sat - Sun 10,00 – 18,00